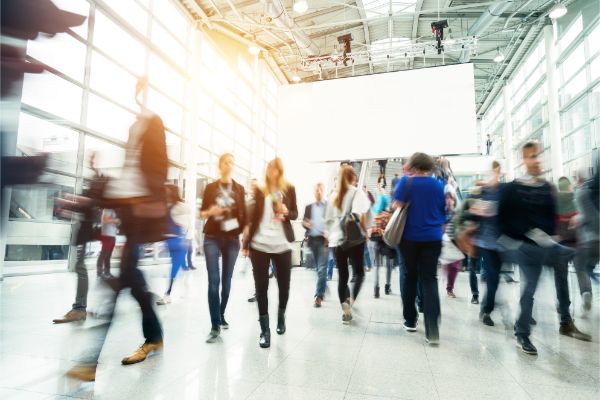 Hire Trade Show Models
Trade Show Modeling
A positive personality and being comfortable talking with and answering any questions that guests may have is a must for trade show models. Usually, trade show models wear branded attire to increase brand awareness and visibility. Many different industries participate in trade shows including automotive, defense and public safety, electronics and technology, food and beverage, finance and insurance, home and garden, manufacturing, hospitality, medical and healthcare, sports and the entertainment industries to name a few. Looking into what type of industry best fits your interests and personality is a great start when beginning to get into trade show modeling.
Trade shows are events where companies and brands promote their newest products or services. Sometimes these trade shows are hosted by the companies themselves. Other times, there are third-party trade shows for all companies within a specific industry to attend. These types of trade shows are quite common within the technological community, where new computers and smart prototypes are revealed each year. But you will also see trade shows that promote original clothing designs for fashion companies too.
So basically, you have several companies and brands going to one trade show to compete against each other. Each company has its own separate booth where their products are promoted and displayed. What better way to display a new product than to hire an attractive model to show it off? It doesn't need to be an article of clothing either. Trade show models are great at showing off everything from computers to kitchen appliances.
Now you might wonder, why do models showcase products that do not necessarily relate to fashion or clothing? The simple answer is that people love approaching models. If you're walking around a trade show event and you see a beautiful model standing next to a new toaster oven in a booth, wouldn't you feel compelled to go over to her? Once you do, you'll end up learning about a new product that you wouldn't have known about otherwise.
Trade show models work as exhibitors at the booths of these trade show events. The models are charming and beautiful, with big smiles on their faces. Who wouldn't want to approach models who are beautiful and have positive vibes coming from them? Their beauty and charm reflect upon the items they're promoting, which is why companies hire them in the first place.
Trade show models are also knowledgeable about the products they're promoting. Companies give their models some information to study prior to these trade show events so that they know what to tell people about their products. As guests approach their booths, the models use their outgoing personality and demeanor to answer questions and provide information about the product in a cheerful and enthusiastic sort of way.
Obviously, the typical model is expected to be young and in good physical shape. A model between the ages of 18 and 30 is the most common type of trade show model. A lot of companies prefer models who are taller than 5'7". In cases where male models are hired for trade shows, they're expected to be at least 6'0". Most of the time, however, the female models are hired.
Trade show models are not expected to sell products directly at the trade shows, although that is always a welcomed outcome. Their main goal is to generate leads and contacts for the companies who've hired them. If the product has a particular function, the model will demonstrate how to use the product in front of the guests. If the guests are interested in the product, they'll offer their business card to the model, or the model will give a company business card to the guest. It can work either way.
Hire Models