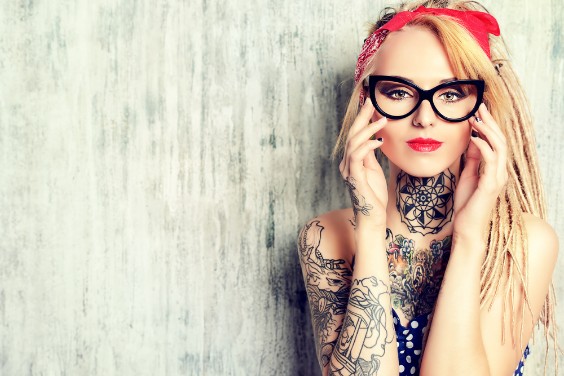 Hire Tattoo Models
Alternative Modeling
Major brands hiring for tattoo modeling include big names such as Cheyenne, Tattoo Life, Inked, and Taurus. Tattoo models usually will be asked to pose for photos and should be prepared to provide interviews for fans to learn more about the tattoo lifestyle, culture, and your unique personal canvas.
Not too long ago, the alternative subculture was considered extreme. It thrived in the underground and many fringe niches, but it did not enjoy the popularity, as well as the commercial appeal that it has today. Despite that, the alternative modeling style became exponentially more popular.
From the late 80s and the 90s, down to the modern scene, alternative looks became trendy and fashionable. As a result, there are many opportunities for extremely tattooed models. The same goes for models who embrace alternative styles or have other forms of body modifications, such as prominent piercings. Inspired by the success of iconic modeling brands such as Suicide Girls, the alternative modeling industry took off starting from the early 2000s, primarily. Today, it is one of the fastest-growing sectors in the modeling niche, and you'll often see tattooed models even in mainstream environments, not related to any alternative subculture at all.
These models often appear on a wide variety of media outlets and projects, spanning fashion, photography, film, video, and lifestyle experiences. They also double up as atmosphere or promotional models, under the right circumstances. There are plenty of major brands that are hiring tattoo models to advertise their products, and the list keeps growing! In most cases, tattoo models will often need to pose for photos or appear on video shoots. They should also be well-versed in engaging with people and should always be prepared to provide interviews for fans. This is an excellent opportunity to focus a bit more on the tattoo lifestyle, culture, and a model's unique personal canvas.
Today, there are many opportunities for men and women alike in the world of alternative tattoo modeling. It is all about being yourself and let your love for art and self-expression shine through.
Hire Models