Why Every Model Needs Tear Sheets

By Elisa C.
Tear Sheets 101
What are tear sheets? Tear sheets in the modeling and professional world prove that you 've worked for the companies that you claim to have worked for. They are basically the publication or photographs that have enough corroborating evidence that you 've been published. Examples of this would be a page from Maxim Magazine featuring your photo and the corresponding text. Modeling tear sheets are a professional backup that almost acts as a resume. The more tear sheets you have, the more valuable, marketable and recognizable you become as a model. It will also get you better jobs and can be seen as a step towards becoming a model full time.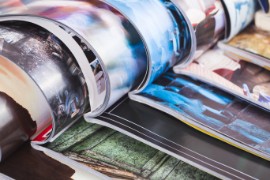 Free Tear Sheet Resources
While most of your tear sheets should appear as if they are torn directly from a magazine, they shouldn't be messy or have too much of the magazine torn away. This helps show the prospective employers that the pages come from a published source and will help you avoid being accused of photoshopping or falsifying your work. The tear sheets should be kept in a binder or portfolio but should be separate from your professional portfolio. Below are just a few of the ways that you can get tear sheets for free as paying for a copy of your work would be quite absurd.
- Amateur photographers. While it can be considered a bit of a no-no to falsely claim that you 've worked with a company, photoshopping a photo and working with a free photographer can be very handy. With a few camera clicks, some photoshop and formatting, an amateur model can create a tear sheet like the look that you could fold into your traditional portfolio. It would be important to disclose that the photo was altered to look like a tear sheet if anyone asks.
- Local Publications. One of the great things about being an amateur model is that working with local companies and people will be a lot more personable. Getting hold of a local publication that you 've been featured in should be really easy. Also working small instead of shooting for the big companies right away is always guaranteed to get you more work.
- Regional Publications and Ad Agencies. The next step in gaining more tear sheets and furthering your career is working up into the regional scene. Regional publications and smaller ad agencies will often work across a few states that will grant more exposure than the local scene. It will be a lot easier to make more money when you get this big but keep in mind that you really shouldn't be paying for tear sheets at any level.
- Unpaid Internships. Many modeling and advertising agencies these days offer unpaid and sometimes paid internships to models and people just starting out in the modeling world. While being to work is a great thing, an unpaid internship is a way to get exposure with a company, and any publication that bears your name or work can be automatically considered for a tear sheet page.
Book Models:
Other Links